BURKE'S SPORT HAVEN - COVID-19 Updates
WE ARE NOW OPEN FOR APPOINTMENTS.
PLEASE EITHER CALL US AT 586-776-3590 OR EMAIL US FOR FURTHER INFORMATION.
SOMEONE WILL BE IN THE STORE MONDAY-FRIDAY FROM 11-4 AND SATURDAY 11-3
WE ARE ANSWERING EMAILS – BURKESSPORT1@COMCAST.NET
STAY SAFE AND HEALTHY WE LOOK FORWARD TO SEEING YOU. 
Michigan's Leader in Servicing and Outfitting Athletes,
Teams and Corporations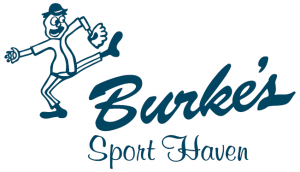 Hey if you are a coach, player, equipment manager, athletic director, mom and dad...
Make
Burke's Sport Haven
your destination for uniforms, equipment and promotional apparel. Family owned since 1973, and located in southeast Detroit, Burke's Sport Haven is your complete team outfitters and uniform specialists.
Need a Special Piece of Equipment or Apparel?